DoDoStar - Uranus Hands Free Automatic Male Masturbator
Limited-Time Offers, End in:
🥑【 A Breath of Fresh Air 】 Brand-new avocado green masturbator for men, not showy bright, nor close to the deep dark, giving you a breath of fresh air full of a low-key but classic vibe;

🌪️【 Multi-Level Tornado-Like Stimulation 】 Up-and-down thrusting, 360° rotating like a tornado, 8 different modes, 3 varying speeds, slow or high tempo, tender or fierce friction, freely choose your favorite pace and embrace the ecstatic pleasures high to the heaven. The built-in processor of this hands-free masturbator cools the heat from fast speed movements, clearing barricades on your enduring releasing road;

🔞【 Overwhelming Sexual Enjoyments 】 Supported by the water-cooled technology, the soft silicone gel inner sleeve performs flexible shrinking to perfectly wrap your cock. Thoroughly wreathed fleshy granules stimulate g-spots, offering the feelings of intercourse like in a real vagina, a thrilling clamping like her legs throw at your waist or a breath-taking blow job. Choose this male masturbator and be flooded with these pleasures ( Lubricant is suggested for a better experience );

👀【 All-Around Clear Window 】 Unlike the former masturbation toy with only a partially transparent window, this male masturbation toy's whole body is transparent. No matter how you'd like to hold it, the fascinating show is always there;

🥇【 Considerate Details 】 Extended mini bullet masturbation toy weighing only 565g, quite easy to hold, carry and store. Whole-body is removable - outer case, tube, inner sleeve, and you can soak all of them in the water for thorough cleaning (except the main operating head). Newly-designed motor creates the lowest noise than most automatic male masturbators so that you could enjoy your thing more at ease.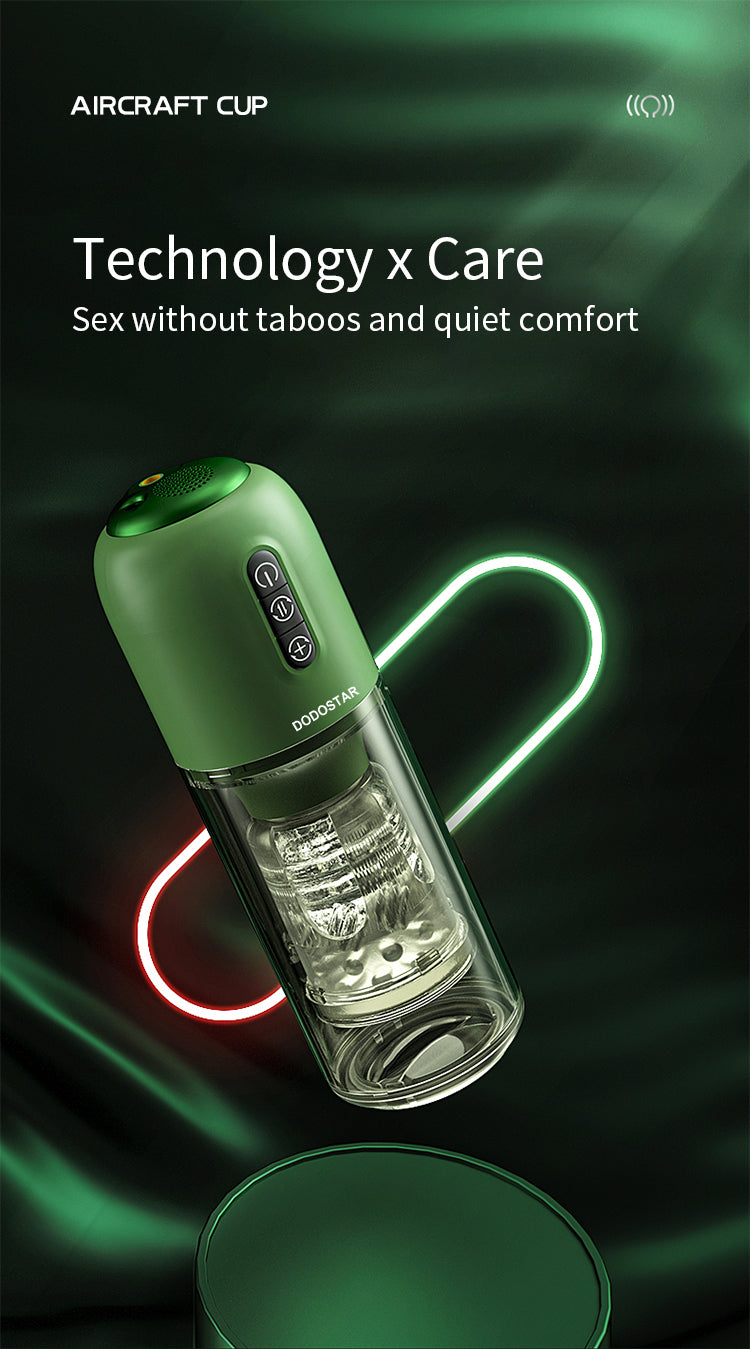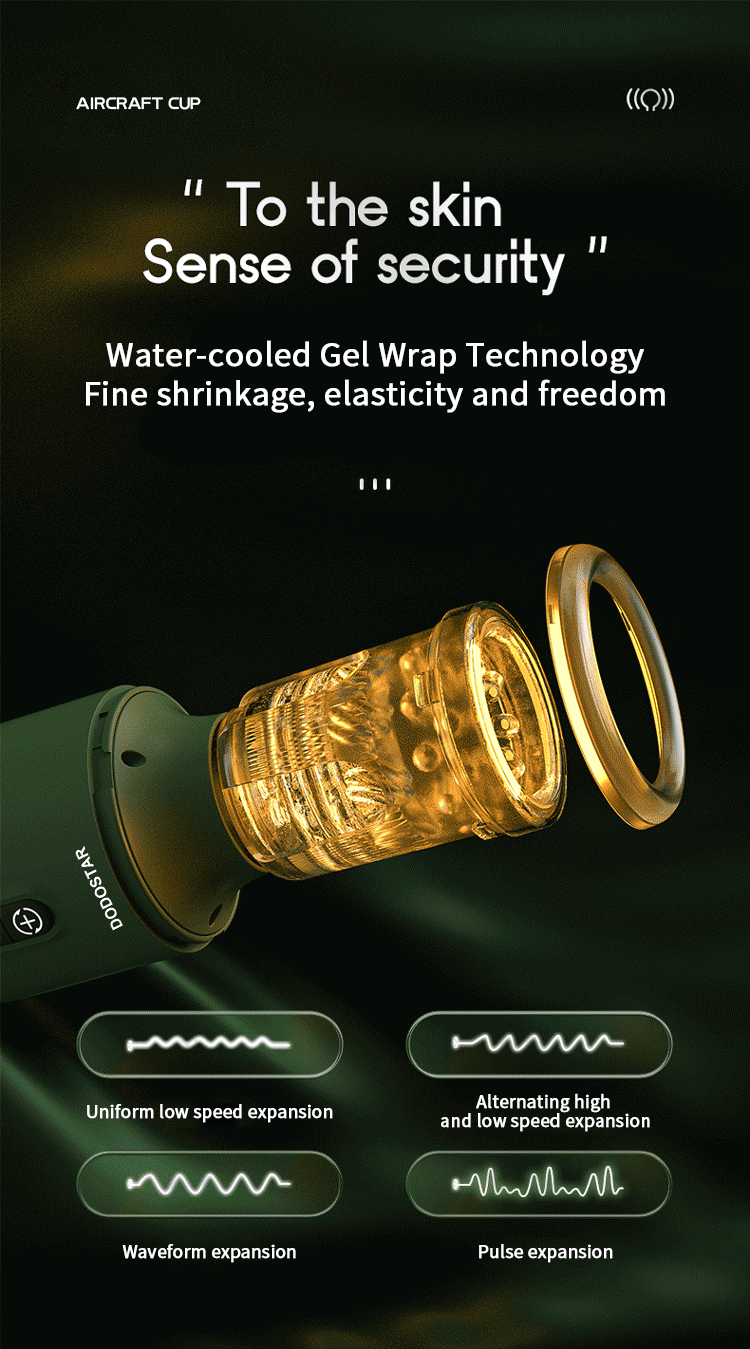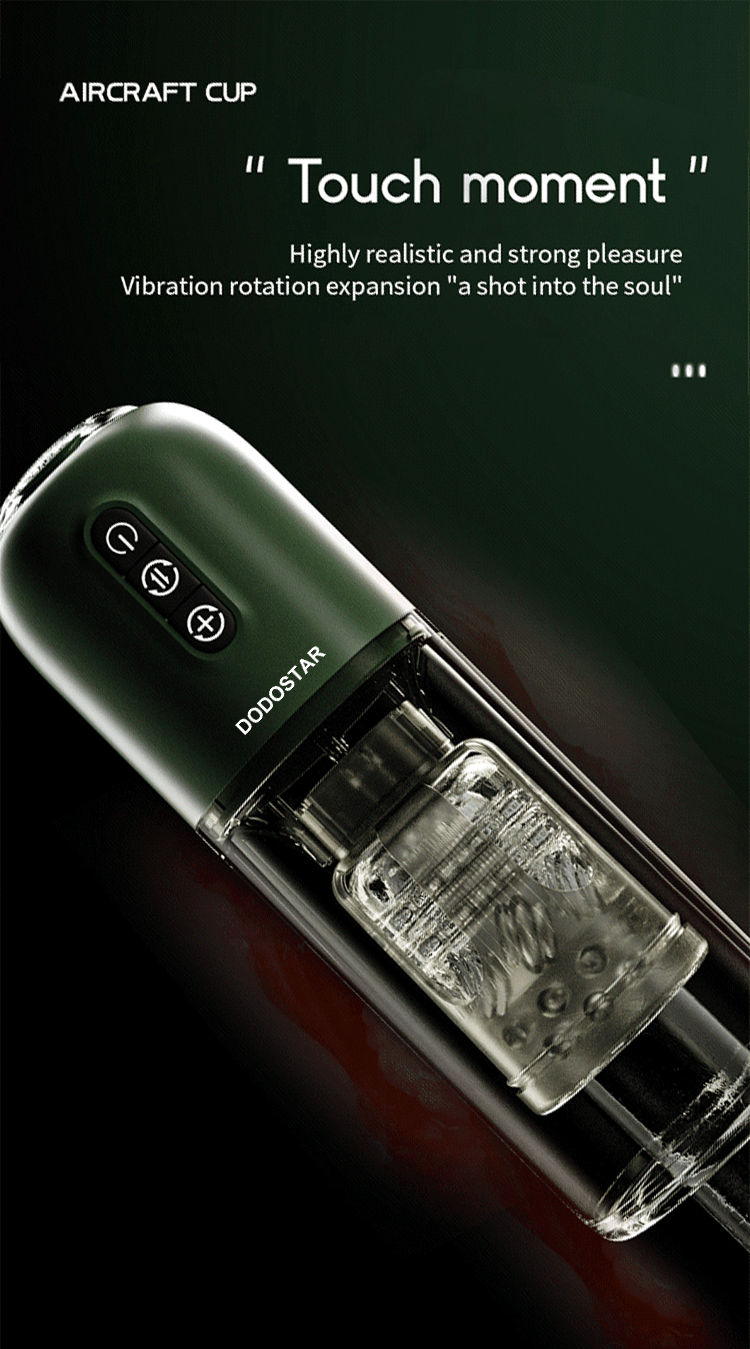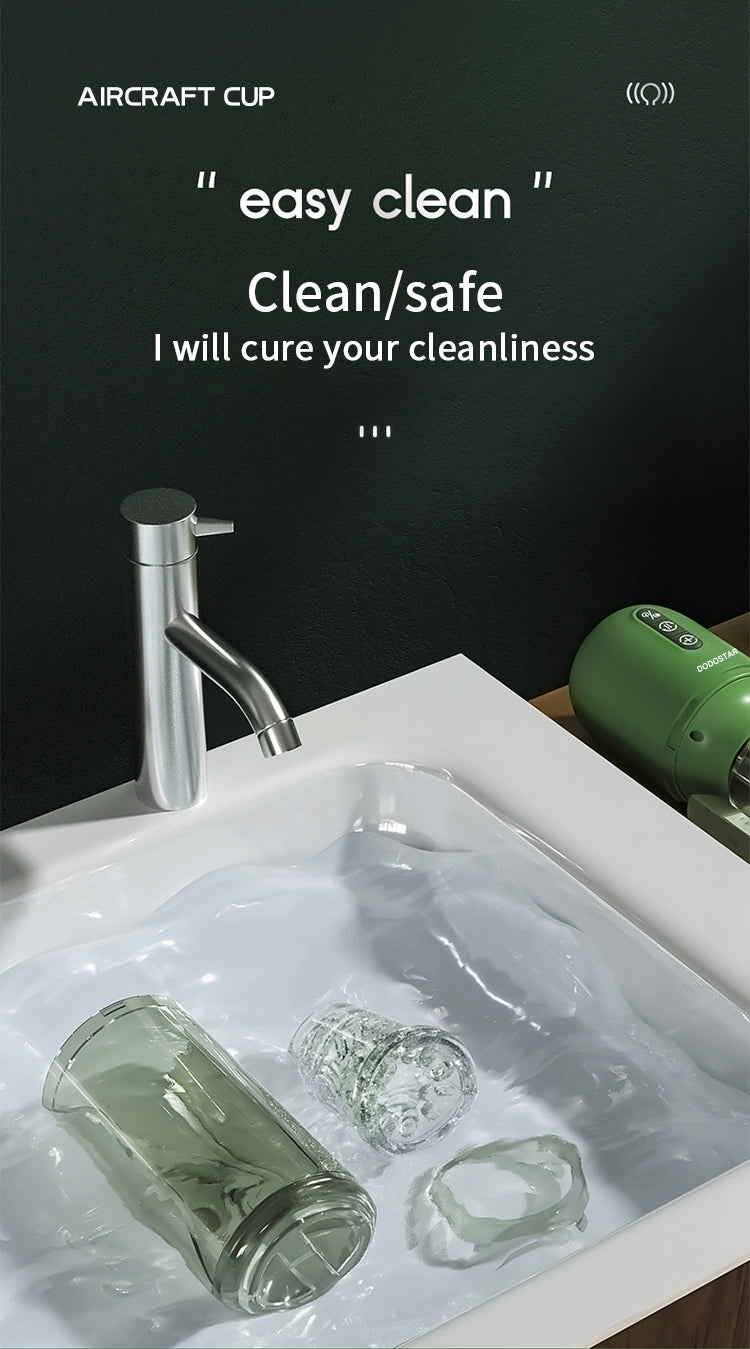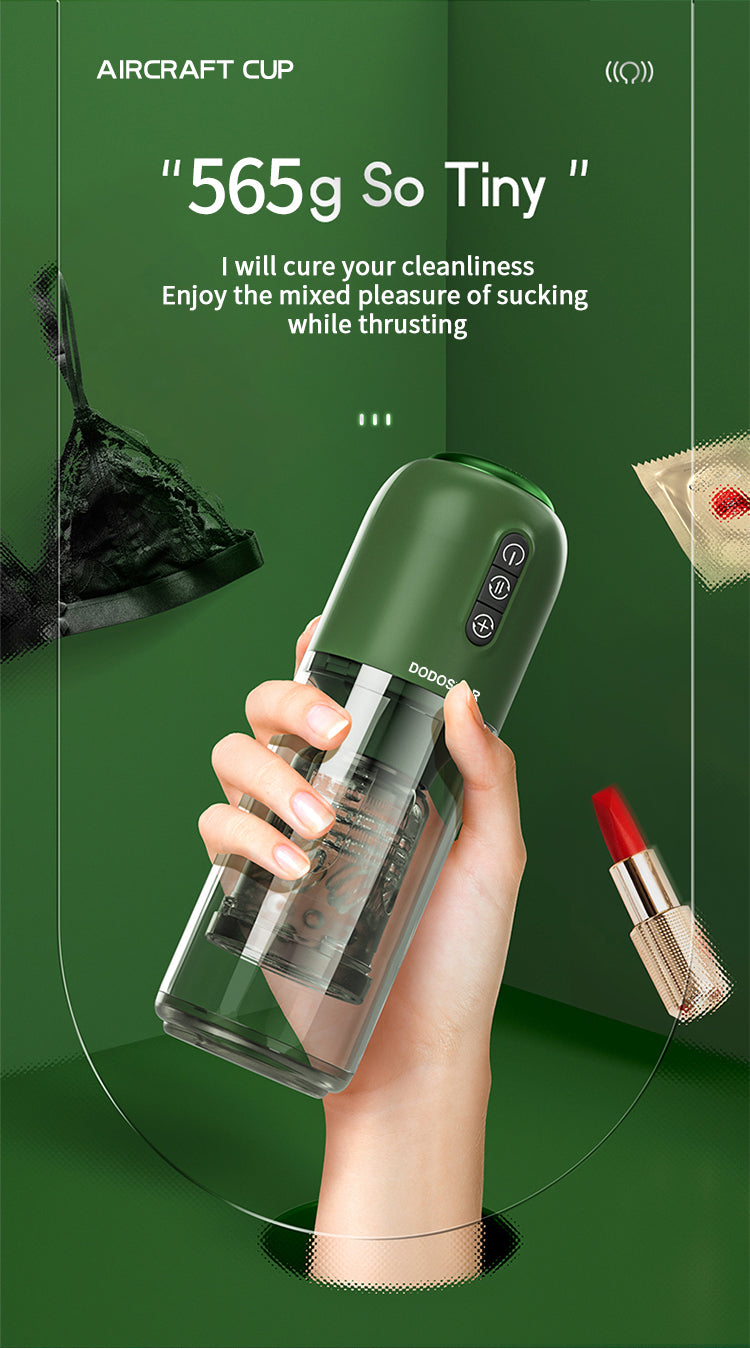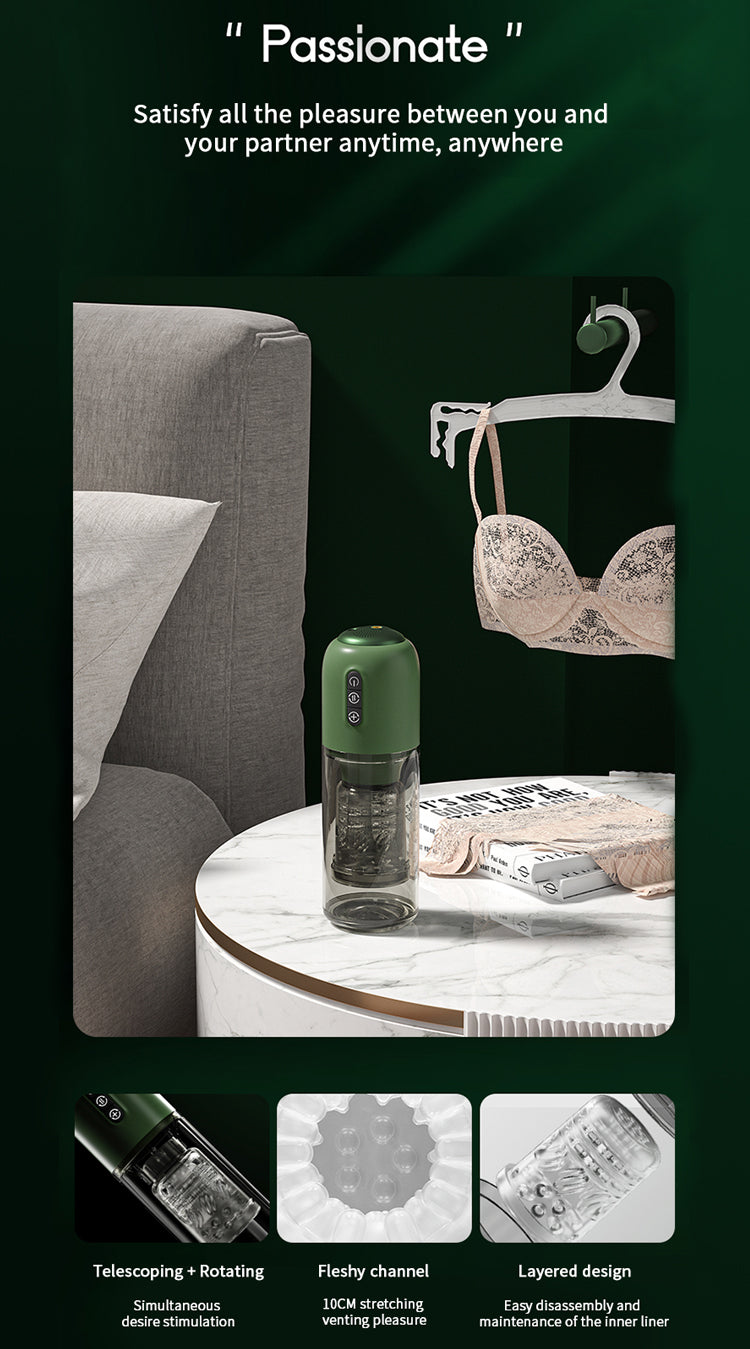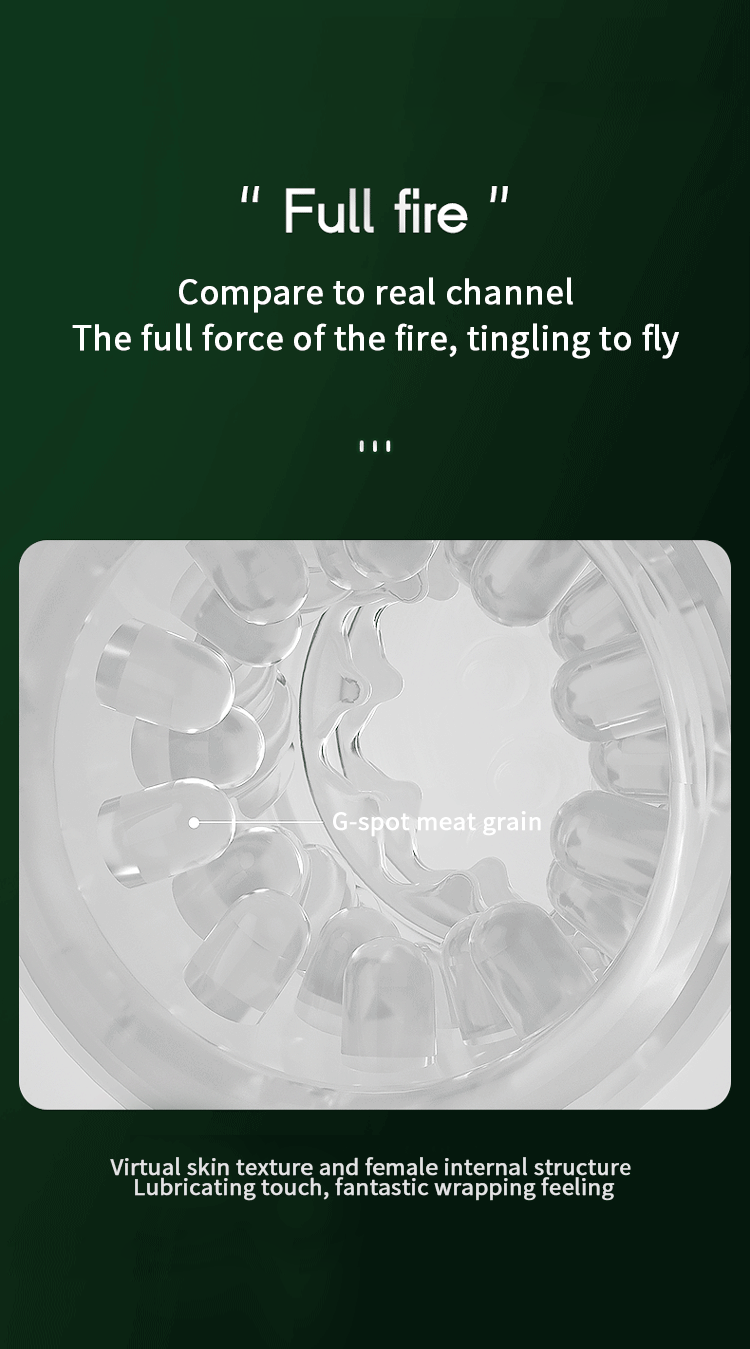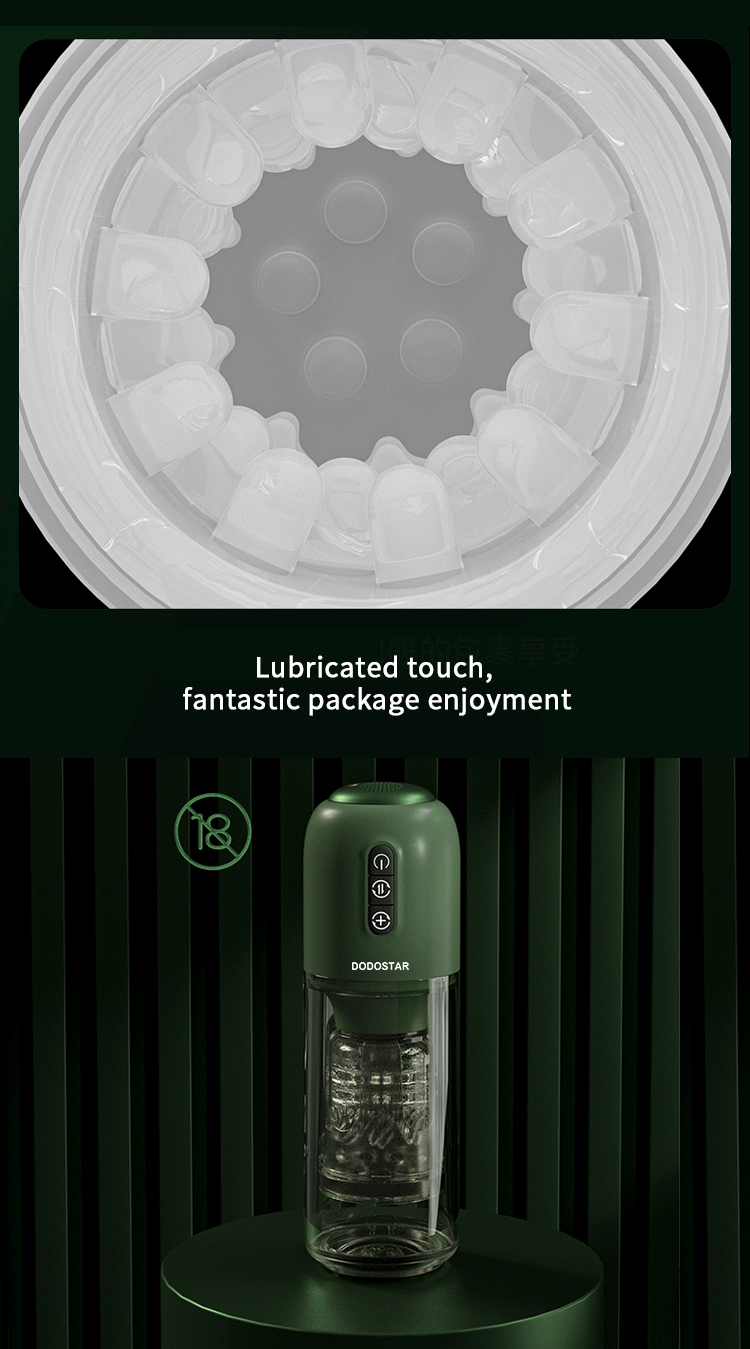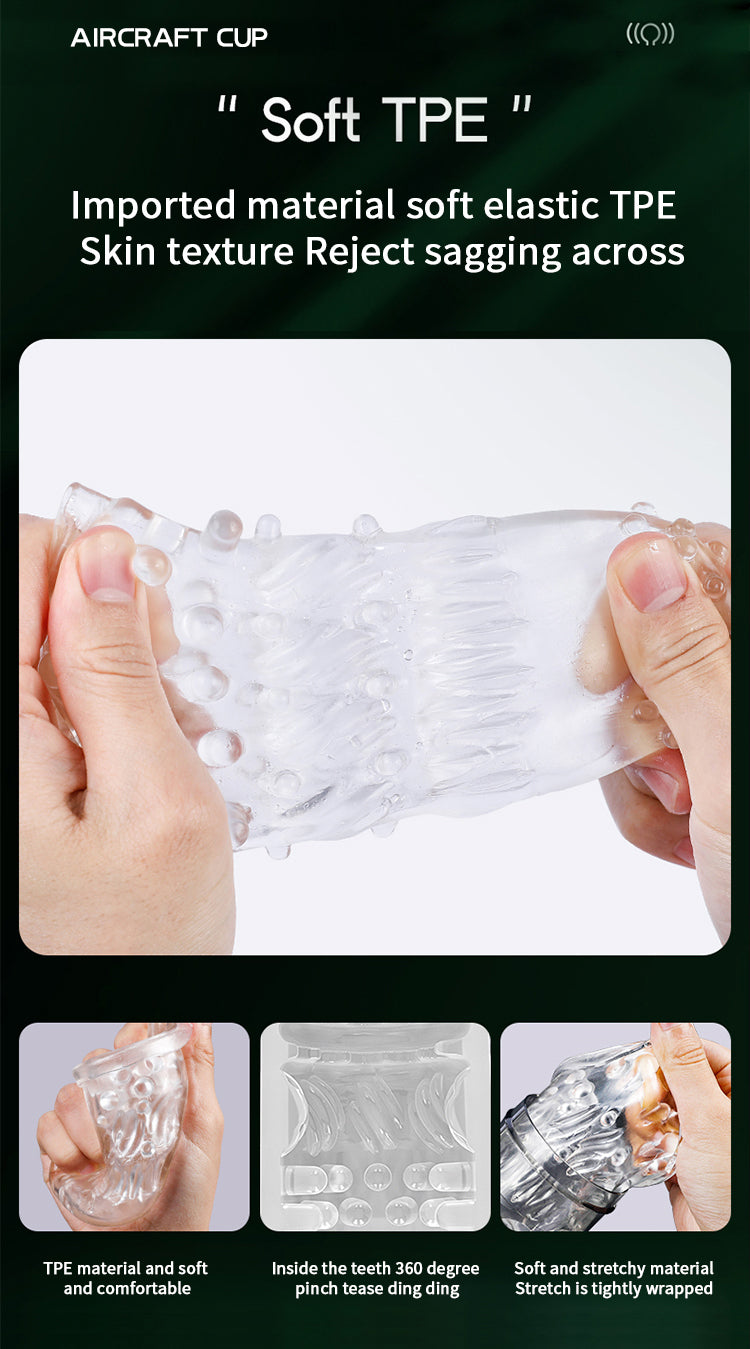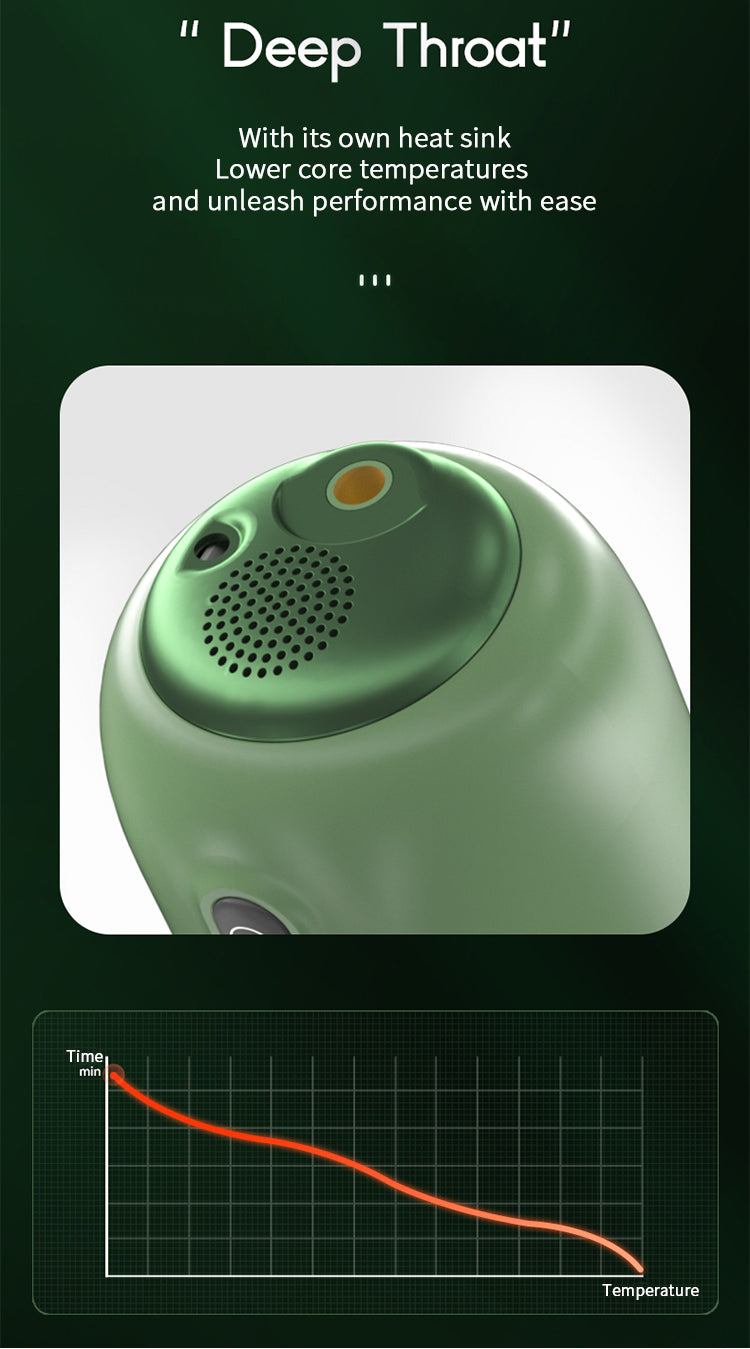 Item: Telescopic Rotating Male Masturbator
Color: Avocado Green
Material: Silicone Gel + TPE + ABS 
Function: 360°Rotating + Back-forth Thrusting ( Working at the same time )
Modes: 8 Modes of Rotating & Thrusting + 3 Speeds
Charging: USB Charging
Net Weight: 565g
Gross Weight: 680g
Penetrating Length: 11.5cm (4.5'');
Size: 24.8*8*8 cm ( 9.76*3.15*3.15 inches )
Package Included:
Automatic Male Masturbator *1; USB Cable *1; Manual *1.
Shipping methods
Packaged:
Our all adult sex toys will be delivered to you in discreet packaging and we take your privacy very seriously, your privacy is safe and sound!
Our goal is to offer you the best shipping options, no matter where you live. We deliver to hundreds of customers across the world every day, and we strive to provide you with services of the highest level.
The time frame of an order delivery is divided into two parts:
Processing time
Shipping time
Shipping methods:
UPS, USPS, Amazon logistics, DHL etc.
Free shipping for orders  (Only US);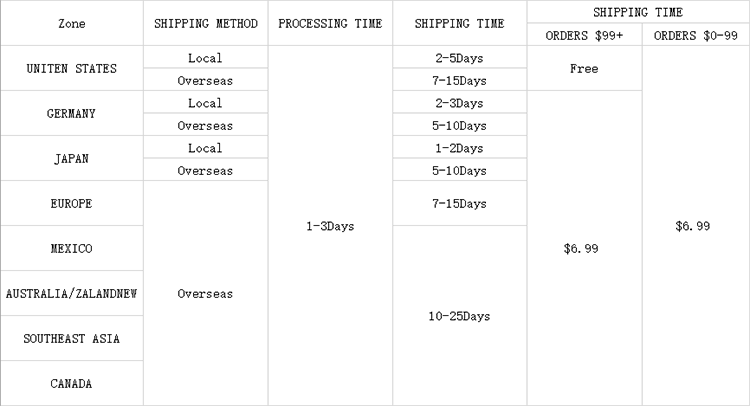 Note:
1.Affected by Covid-19, there will be some delay on the delivery.
2.We have warehouses in the United States. For orders from US, we will give priority to local warehouse shipments, followed by overseas warehouse shipments.
3.Shipping calculated at checkout.
Payment methods
---
Payment methods
Whether you want to pay immediately or prefer to pay afterwards, all well-known payment options are available at DoDo-Star.com. Simply select your preferred payment method during the checkout process.
| | Payment method | Available in | Processing time | Payment costs |
| --- | --- | --- | --- | --- |
| | MasterCard | Worldwide | Straight away | Free |
| | Visa | Worldwide | Straight away | Free |
| | PayPal | Worldwide | Straight away | Free |
| | American Express | Worldwide | Straight away | Free |
Credit card
Credit cards are more than welcome at
DoDo-Star
.com
It is possible to pay with your credit card on
DoDo-Star
.com
. You can pay with Visa and Mastercard. Would you like to pay by credit card? Then select credit card as the payment method during the ordering process. You can enter your credit card details through our secure payment environment. You can then pay directly with your credit card.
Credit card benefits
Your payment is always secure
Credit card purchases are insured
Easy and quick to use

How do you pay with your credit card?
Choose credit card as the payment method and then select Visa or Mastercard. Enter all information including your name, credit card number, expiration date and verification number. Then check if all data is correct. You can now complete your payment and place your order.
Safe and discreet
Orders that you pay for with your credit card are insured and payment is easy in the secure environment of our online shop. Due to discretion, payments are never mentioned as
DoDo-Star
.com
on your credit card statement. When placing your order, your personal data is guaranteed to be handled securely. Personal data is not provided to third parties and all information sent over the internet is automatically encrypted, making the information unreadable for third parties. As soon as your credit card payment has been checked, your order will be sent immediately.
PayPal
Pay quickly and securely with your own PayPal account.
PayPal is a safe and fast way to make online payments worldwide. For anyone with a PayPal account, it is possible to pay with PayPal at
DoDo-Star
.com
. Simply select PayPal as preferred payment method during the ordering process and enter your personal PayPal details.

Benefits of PayPal
Your payment is anonymous
Your payment can be tracked and checked online
A confirmation of your payment will be sent via email
After verification, your order will be shipped immediately
Your own PayPal account
If you would like to pay with PayPal, you can do this with your own PayPal account. In your PayPal account, your email address is linked to a bank account number or credit card. If you want to make a payment with PayPal, you can simply log in to your own PayPal account and complete your payment. You can log in using your email address and a secure password of your choice. After completing a payment, you will immediately receive an email with the payment details.
Safe and discreet
PayPal is one of the safest online payment methods and is the most widely used online payment method in the world. Payments made through PayPal are sent without sharing financial and other sensitive information. Sent data will never be provided to third parties. For discretion, payments are never mentioned under the name "
DoDo-Star
.com
" on your PayPal account. With PayPal you can complete a payment anonymously, because your identity is not mentioned in the payment process.
DoDoStar™ ship via DHL/UPS and USPS. Keep in mind that DHL/UPS does not ship to PO boxes. We provide shipping confirmation and tracking number via email the day your order ships. The cost of shipping is calculated when you check out, it is based on your zip code.
DoDoStar™ buyers can return any UNUSED products within thirty (30) days from the date of delivery for a full refund or exchange. DoDoStar™ do not offer refunds to any USED products. To check your warranty record, please visit MY WARRANTY. For further assistance, please Email to: info@dodo-star.com contact us. Our specialist will give you the necessary help and support.
In most instances, your order is processed and shipped the same day so you get it quickly. There is no way to cancel an order once it has been picked up by our delivery partners. Please order carefully.
All DoDoStar, items are backed by a 1-year warranty should there be a mechanical failure. This warranty is valid from the date of your purchase.
If an item is found to be defective within 30 days of purchase, you are eglible and covered by the qualified warranty program.
To turn your device on, simply press and hold the power button for 1-3 seconds. To turn your device off, simply hold the power button for 1-3 seconds.
To clean your device use our DoDoStar Antibacterial Toy Cleaner. Wipe with a clean cloth and let it air dry before storing.
All of our lubricants are premium, non-irritating FDA cleared formulas — which means they're quality enough to use at a doctor's office. Our DoDoStar Intimate Lubricant is water-based and so is our DoDoStar Toy Lubricant which is a slightly thicker formulation specifically designed for toy play. Experiment with our water-based DoDoStar Sensation Lubricant for a tingling experience.
According to our design, the sleeve tube is a dynamic component. To remove the entire sleeve tube from DoDoStar Uranus, bend your fingers like a fish hook. Feel the gaps of the tube wall. Pull it out with strength.
Nam tempus turpis at metus scelerisque placerat nulla deumantos solicitud felis. Pellentesque diam dolor, elementum etos lobortis des mollis ut risus.